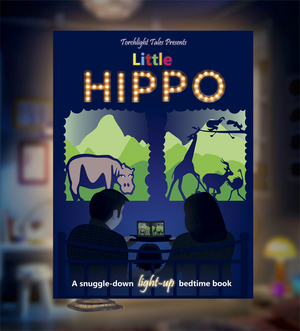 Little Hippo: A Torchlight Tale
Sale price Price $26.00 Regular price
Tax included.
This snuggle-down, light-up story follows a very sleepy little hippopotamus as he gets ready for bed.
But with the biggest mouth around, his deafening yawns are keeping every other creature for miles around awake way past their bedtimes!
All Torchlight Tale books come with a super-secure attachment that fits all models of phone (and we don't know of any that don't have a flashlight feature)

No phone? No problem! Just add a mini-torch upgrade kit to your order and bring your Torchlight Tales book to life with one of our tried-and-tested, cost price mini-flashlights.
Free UK shipping, and 20% off orders of 3+ books!
Sweet dreams!