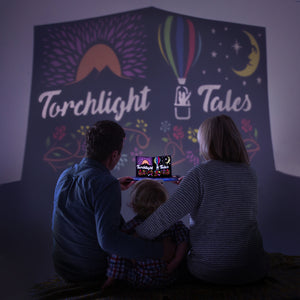 Come and take a little look...
At a brand new kind of bedtime book.
Just use the flashlight on your phone,
(Or a tiny torch) to fill your home,
With sleepy stories, dreamy light,
And the sweetest way to say 'night-night'!
A magical light-up bedtime book
To inspire precious moments of together-time at the end of each day.
Soothing stories
Relaxing rhymes, calming language and dreamy themes combine to help steer little minds towards their special sleepy place.
A spellbinding light show
Each page features a colourful laser-cut pop-up to illuminate walls & ceilings with big, bright immersive illustrations.
Just add light...
Our magical light-up bedtime books can be powered by any make & model of phone with a flashlight, or by a regular mini-torch, attached directly to the book.
We are Family
Torchlight Tales books are born and bred at our family home in Somerset, England.
And as proud parents, we're passionate about creating enchanting experiences and brilliant bedtimes for parents and pipsqueaks everywhere.