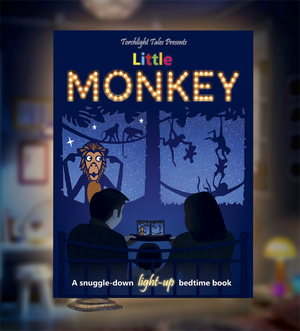 Little Monkey: A Torchlight Tale
Sale price Price £19.99 Regular price £0.00
Tax included.
This snuggle-down, light-up story follows a Little Monkey struggling to fall asleep because of her tiny brother's non-stop, noisy sleep talking.
But then (spoiler alert!) she finally manages to nod off to sleep after coming up with a very sweet solution!
All Torchlight Tale books come with a super-secure attachment that fits all models of phone (and we don't know of any that don't have a flashlight feature)

No phone? No problem! Just add a mini-torch upgrade kit to your order and bring your Torchlight Tales book to life with one of our tried-and-tested, cost price mini-flashlights.

Free UK shipping, and 20% off orders of 3+ books!
Sweet dreams! x